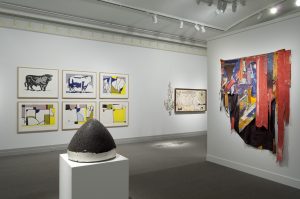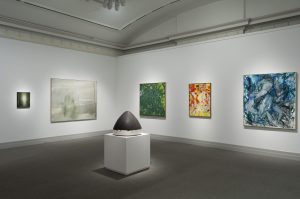 Recollection: Selections from the Permanent Collection
October 21 – December 31, 2017
Curated by Jess Frost, Associate Curator/Registrar of the Permanent Collection
Woodhouse Gallery
Recollection will feature masterworks from Guild Hall's Permanent Collection, alongside some of the Museum's rare and unusual holdings. This exhibition is the first of an annual series that will be drawn from Collection and archives, and coincides with a major digitization project that will enable greater educational access to Guild Hall's notable holdings.
Eighty-six years after Mrs. Lorenzo E. Woodhouse dedicated Guild Hall as a cultural center for the community in 1931, the Guild Hall Museum has amassed over 2400 works by artists associated with the institution and the region. The Permanent Collection includes paintings, sculpture, prints, watercolors, photographs and drawings dating from the 19th Century to today, by internationally distinguished artists such as Thomas Moran, Childe Hassam, Jackson Pollock, Lee Krasner, Willem de Kooning, Cindy Sherman, Mary Heilmann and Frank Stella, and representative of major art movements from American Impressionism to Contemporary art.
Highlights of the exhibition will include a number of significant works recently returned from the traveling exhibition Guild Hall: An Adventure in the Arts, such as Fairfield Porter's The Plane Tree, 1964, and Elaine de Kooning's painting Bacchus #63, 1982. Also on display are Frank Stella's Lanckorona III, 1971, and artist Al Loving's torn canvas painting Untitled, c. 1975. Additional artists included are; Ross Bleckner, John Chamberlain,Chuck Close, Willem de Kooning, Adolph Gottlieb, Hiroyuki Hamada, Bryan Hunt,Lee Krasner, Ibram Lassaw, Roy Lichtenstein, Costantino Nivola, Alan Shields, Pat Steir and Jane Wilson.